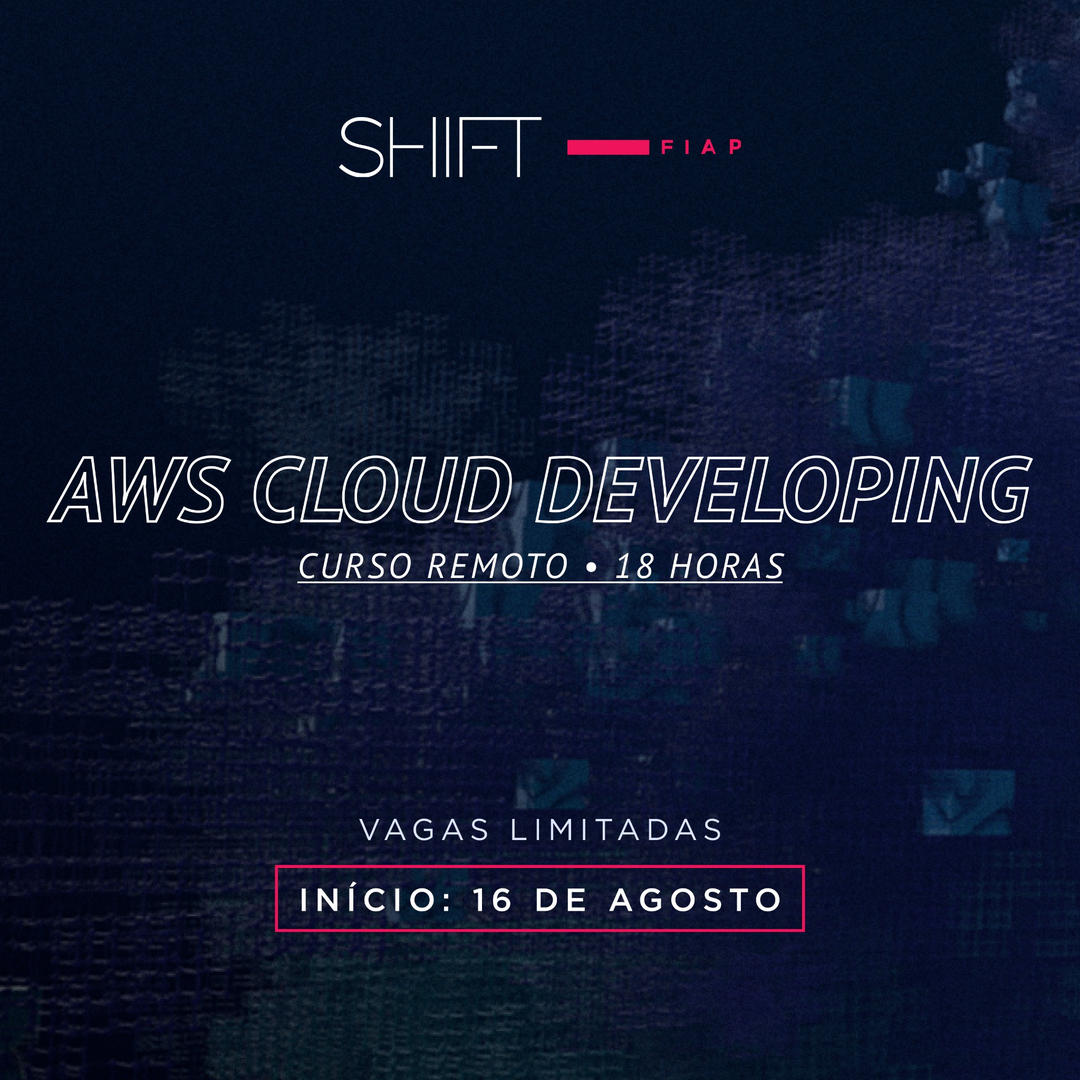 Nosso foco é formar profissionais que dominem o desenvolvimento em Cloud. Você vai aprender a utilizar AWS SDK e a identificar as melhores práticas para criar aplicativos na nuvem AWS. Também vai se preparar para o exame de certificação AWS Certified Developer - Associate (DVA-C01). Uma jornada com 40 horas de conteúdo, talks e laboratórios práticos.
Para quem?
Desenvolvedores, profissionais DevOps e Arquitetos(as) de plataformas e soluções que querem ter Certificação e experiência hands-on em AWS.
Pré-requisito
Sugerimos que você se aprofunde no conteúdo do curso AWS Academy Cloud Foundations, disponível como um dos nossos benefícios ao adquirir esse curso.
SHIFT remoto
Você vai ter acesso à plataforma AWS Academy. Aulas ao vivo com conteúdo e metodologia especialmente pensados para o aprendizado remoto. Os vídeos dos encontros também ficam disponíveis por 7 dias após a última aula. O conteúdo complementar pode ser acessado durante 1 ano. E você ainda tem acesso ao ecossistema FIAP e aos nossos coworkings.
Benefício FIAP
Você terá acesso a um voucher de 50% de desconto para o exame de Certificação AWS Certified Developer - Associate. O curso AWS Academy Cloud Foundations é pré-requisito para esse curso. Adquirindo o AWS Academy Cloud Developing, você terá acesso integral prévio e sem custo ao Cloud Foundations (incluso voucher de 50% de prova de Certificação AWS Cloud Practitioner).
Conteúdo
Módulo 1: INTRODUCTION TO DEVELOPING ON AWS

Recognize the systems development life cycle, and describe how to start to developing on AWS.
Indicate how to work with AWS SDKs.
Identify why AWS X-Ray is a critical developer tool, and identify AWS management tools.
Develop and run a simple program in AWS Cloud9.

Módulo 2: INTRODUCTION TO AWS IDENTITY AND ACCESS MANAGEMENT (IAM)

Recognize the shared responsibility model.
Explain how IAM helps secure access to AWS resources.
Describe IAM user authentication.
Identify how to authorize an IAM user, group, or role.

Módulo 3: DEVELOPING STORAGE SOLUTIONS WITH AMAZON S3

Describe how Amazon S3 can be used as a storage solution.
Identify Amazon S3 features and components.
Describe two ways to protect data with Amazon S3.
Describe the function of the S3 object operations (PUT, GET, SELECT, DELETE).
Explain how to manage access to Amazon S3 resources developed with Amazon S3 using the AWS SDKs.

Módulo 4: DEVELOPING NOSQL SOLUTIONS WITH AMAZON DYNAMODB

Identify Amazon DynamoDB features.
Describe Amazon DynamoDB components.
Explain how Amazon DynamoDB uses partitions.
Indicate how indexes are used with Amazon DynamoDB.
Describe how Amazon DynamoDB keeps data consistent.
Recognize when streaming and global tables are used.
Explain the backup and restoration process.
Develop flexible NoSQL solutions with Amazon DynamoDB.

Módulo 5: CACHING INFORMATION FOR SALABILITY

Explain when caching is used.
Describe caching with Amazon CloudFront.
Describe caching with Amazon ElastiCache Apply caching strategies.

Módulo 6: INTRODUCTION TO CONTAINERS

Describe the history, technology, and terminology behind containers.
Differentiate containers from bare-metal servers and virtual machines.
Identify the characteristics of a microservices architecture.
Recognize the drivers for using container-based workloads.
Host a basic website by using Docker containers.

Módulo 7: DEVELOPING SOLUTIONS WITH AMAZON SQS AND AMAZON SNS

Recall how message queues works.
Describe Amazon SQS.
Send messages to an SQS queue.
Describe Amazon SNS.
Explain Amazon SNS concepts.
Describe Amazon MQ.

Módulo 8: DEVELOPING EVENT-DRIVEN SOLUTIONS WITH AWS LAMBDA

Explain serverless computing.
Describe how AWS Lambda works.
Recognize AWS Lambda execution models.
Identify how to use AWS IAM to grant Lambda permissions.
Indicate the steps to author and configure a Lambda functions.
Explain how to deploy serverless applications.
Develop event-driven solutions with AWS Lambda.

Módulo 9: DEVELOPING SOLUTIONS WITH AMAZON API GATEWAY

Recognize application programming interfaces.
Describe Amazon API Gateway.
Indicate the steps for developing RESTful APIs with Amazon API Gateway.

Módulo 10: DEVELOPING SOLUTIONS WITH AWS STEP FUNCTIONS

Recognize the dynamics of workflow coordination in distributed applications.
Describe AWS Step Functions.
Identify state types.
Indicate common use cases for AWS Step Functions.
Recall AWS Step Functions APIs.

Módulo 11: DEVELOPING SECURE APPLICATIONS ON AWS

Identity how to secure applications.
Describe how to manage your application's secrets.
Recall how to authenticate with AWS Security Token Service.
Describe how Amazon Cognito is used to build secure applications.

Módulo 12: DEPLOYING APPLICATIONS ON AWS

Describe DevOps
Recognize AWS code services for CI/CD
Summarize deployment strategies
Describe how AWS Elastic Beanstalk is used to deploy applications
Describe how AWS CloudFormation is used to deploy applications
Describe how AWS SAM is used to deploy serverless applications.